An evening of classic Hindi songs -Deccan Herald 12-04-2007

S Lalitha

It was a nostalgic evening for numerous senior citizens present at the Gaata Rahe Mera Dil show held at Ambedkar Bhavan last Friday evening. The programme, organised by the Divine Mother Society (DMS), a Chennai-based charity organisation, was a rendition of popular Hindi numbers of yore.
Members in the audience sang along, clapped, gave appreciative comments aloud and a few took to the floor too. What really aided the trip down memory lane was the mini screen displaying posters of the 30 songs sung as well as stills of the lead pair enacting the songs in the movie. A regular flow of good jokes from compere Prem Kumar of Mumbai ensured that the audience had enough to laugh about all evening.
The evening began with Aayiye meherban from the 1958 hit Howrah Bridge which had featured Ashok Kumar and Madhubala as the lead pair. Asha's melodious voice was emulated by Jaya Rajagopalan from Chennai.
The best was reserved for the second half of the show which featured the perrenial hits––Kisi ki Muskurahaton Pe from Anari (sung by Nayan Shah from Calicut), Arre yaar meri from Teen Deviyaan (Mumbai's Vinod Seshadri and Jaya Rajagopalan), Maang ke saath tumhara from Naya Daur (Mumbai's Anil Bajpai and Jaya), Dil Tadap Tadap from Madhumati (Calicut's Nayan Shah and Mumbai's Sangeeta Melekar), Haal Kaisaa Hai Janaab Ka from Chalti Ka Naam Gaadi (Vinod and Jaya) and Dum Dum Diga Diga from Chhaliya.
The musical show reached a crescendo with Bar Bar Dekho from China Town (Anil) and Ina Meena Deeka from the movie Asha (Vinod). The audience insisted on a repeat number of Bar Bar Dekho.
The synchronised music on the keyboard, flute, guitar, thumba and octopad by troupe members of the orchestra Evergreen Calicut was a treat to the listeners. The proceeds from this programme go towards charity work by DMS
'Gaata Rahe Mera Dil' enthrals music lovers'
The New Sunday Express, Bangalore April 8, 2007

Music lovers on Friday could not resist the temptation to dance as singers tried to recreate the old melodies from the "Black and white era" at Ambedkar Bhavan in the city.
For those who had closed their eyes and were enjoying the musical evening, Mohammed Rafi, Kishore Kumar, Mukesh and Hemanth Kumar were back on stage enthralling them.
The 17th "Gaata Rahe Mera Dil" program organized by the Divine Mother Society made people dance to the melodious tunes. A man in his late 50s could not resist the temptation to dance as OP Nayyar's evergreen "Sun sun sun zaalima…" from the movie "Aar Paar" was sung by Anil Bajpayee and Jaya Rajagopal. The programme took the audience to nostalgic height what with a 58-years-old song "Havaa mein udta jaaye…" from Barsat sung by Sangeeta Nilekar from Mumbai, literally remaining them that they were on a different plane altogether.
Nayan Shah, who rendered Mukesh melodies, paired up with Sangeeta to sing songs such as "Aa ablaut chale…" (Jis Desh Mein Ganga Behti Hai) and "Dil tadap tadap ke…" from Madhumati. The songs "Dum dum diga diga…" and "Kisi Ki Muskurahaton pe…"(Anari) received applause from almost everyone. His "Dil jalta hai to jalne de…"(Pehli Nazar) touched everyone.
Anil Bajpayee, Who specializes in Rafi melodies, with his rendition of songs such as "O Duniya ke rakhwale…" from Baiju Bawra in Raga Durbari Kanada and "Bar bar dekho…"(China Town) won the hearts of many.
Vinod Seshadri, who is known for rendering Kishore Kumar melodies, sang "Who sham kuch ajib thi…" (Dilli Ka Thug) and rendered the ultimate "Eena meena deeka…"
Surojit Guha of Bangalore impressed with "Bekarar Kar Ke hamen younna jaayiye…" (Bees Sal Baad.). Jaya Rajagopal invited everyone with the "Aayiya Meherbaan…" ( Howrah Bridge ).
The other melodies rendered were: "Suhaani Raat Dhal Chuki…" (Dulari); "Aaha rim jhimke yeh pyare…" (Usne Kaha Tha); "Piya Piya Piya…" (Baap Re Baap); etc.
A musical evening to remember - Deccan Herald
Last Sunday evening was special for those in love with old Hindi filmi songs. They were treated to evening of 30 good old numbers from the 1960s and 1970s

The programme, 'Gaata Rahe Mera Dil' was put together by Divine Mother Society (DMS) to raise funds for their activities. Well-known singers like Vinod Seshadri, Anil Bajpai and Sangeeta from Mumbai and Anita Santanam from Chennai belted out favourites Aaradhana, Jewel Thief, Sasural, Kashmir ki Kali and Guide.
This was the first such event organised in the City. April will see one more of such an event. DMS runs a clinic at village Alamadhi in Tamil Nadu. The centre caters to the cluster of villages with a population of close to 5000 people. The DMS Bangalore office is located on 13, Girls School Road, Mavally, Off R V Road. For any details contact: 26578926.

Musical evening brings back memories –
City Express Bangalore , Dt. 22-01-07
It was a perfect evening for an audience of the previous generation to reminisce their youth through the melody of the songs. The musical evening of "Gaata Rahe Mera Dil" was organized by Divine Mother Society (DMS) and presented by Stock Holding Corporation of India on Sunday.
This was the 14 th edition of the musical evening. The concert revolved around the theme "Treasures of 60s and 70s".
A range of popular and mellifluous numbers were belted out by Vinod Sheshadri, Sangeetha, Anil Bajpai, Anita Santanam and others. The choice of songs ranged from "Khilte Hain Gul Yahan" from the award winning film Sharmilee, the haunting title song from the film "Chaudhawi ka Chaand" to the carefree " Gaatarahe mera dil" from the film "Guide".
The audience relived their yesteryears by singing along the songs from the scintillating 70s and the swinging 60s.
The evening advanced to pave way for more melodious songs, some that are still hummed by people and some forgotten treasures that had mode way for newer tunes.
One of the highlights of the evening was a medley by Vinod Sheshadri where he switched from one song to another, from one tune to the other and sung two songsw from two different generations, all the while making it look effortless.
The evening served to remind the audience of a long past time and revived their memories of what it was like to be young in the 60s and the 70s.
Good old songs – New Indian Express – Dt. 22-01-07
It was a trip down memory lane listening to some of greatest songs of the yesteryear
The only thing that the audience missed at the Kamaraj Arangam on Saturday evening were the musical masteros of the 1960s and 1970s whose songs came alive at Gaata Rahe Mera Dil.
I was an evening that many North Indians in the City, along with equally enthusiastic Chennaiites waited for. And, the evening indeed made many nostalgic.
The concert started with some of the best film songs of the two decades. Be it the famous song Chingari from the film Amar Prem or the soul rendering Jina Yahan, Marna Yahan from Mera Nam Joker, the audience were left glued to the seats.
Many senior citizens were seen sharing a light and romantic note. " When I was of your age, I grew up listening to these songs. I used to often sing osme of them to my wife, said Harsh Narang, retired senior government employee, pointing out why he enjoyed the show so much.
The singers who made the evening come alive came from across India . But, Vinord Sheshadri and Sangeeta Malewkar from Mumbai stole the heart of all. Some of their songs like Maine Kasam Le from Tere Mere Sapne left the audience asking for more. Giving the two singers an equal competition was Anil Bajpai, also from Mumbai, who also proved his vocal prowess with Isharo Isharo Mein from Kashmir Ki Kali.
Among other singers, Unni Menon from the film Roja fame enthralled the crowd with his couplets. And, to further cheer the audience with anecdotes was the golden voice of Ameen Sayani, who literally stole the show even though he was on stage only for a brief moment. It is said that he has compered nearly 50,000 radio shows, while his most famous programme till date has been the evergreen Geet Mala.
And if songs were just not enough, a lucky draw was also conducted. The event was organized by Divine Mother Society, and the money raised would go for various welfare activities conducted by the organizations.
Songs straight from the heart – ( 20 th January, 2007 ) THE HINDU
G.SWAMINATHAN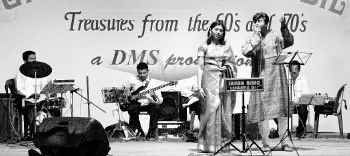 It was nostalgia at its melodious best that Gaata Rahe Mera Dhil offered

The latest edition of `Gaata Rahe Mera Dhil,' a musical activity of the social service outfit, Divine Mother Society, was dedicated to the `Treasures from 60s and 70s.' A special attraction of the evening was the presence of the inimitable and legendary compere Ameen Sayani of the famous `Binaca Geet Maala.'
The programme included GRMD's staple star attractions Anil Bajpai, Vinod Seshadri, Surojit Guha, Sangeetha, Anita and Nayan Shah supported by the Evergreen Orchestra from Calicut . Choosing the gems this time would have been a tough job for almost all the popular numbers have been presented under different categories so far. Yet the organisers and the singers seem to have searched and identified numbers not showcased.
And this time solos were more in number. S.D.Burman dominated with six numbers followed by O.P.Nayyar, Salil Chowdary and Shankar-Jaikishen. There was a perceptible imbalance in the selections since Laxmikant-Pyarelal, Kalyanji-Anandji and R.D.Burman were very much present in the 60s and 70s.
Dev Anand movies once again figured maximum while in fact Rajesh Khanna was reigning supreme at that point of time. Songs from `Maya' or `Beti Bete' were not featured. Nevertheless, the young and vibrant singers did not belie the expectations of the packed auditorium of listeners.
But the real pleasant surprise was the new entrant Jaya Rajagopal with her Asha Bhonsle items `Jayiye aap kahan' (Mere Sanam) and `Zara haule haule' (Sawan ki Ghata) and the rapturous duet (with Unni Menon) `Jaane man jaane man' from `Chottisi Baat.'
Sangeetha's curtain raiser number `Yeh raaten nayi purani' from `Julie' was mellifluous and she sang the duet `Yeh meine kasam li' (Tere Mere Sapne) beautifully with Vinod. Another highlight of Sangeetha-Vinod combo was the convivial duet `Aaj suhani yeh mehfil Ameen Sayani' on the lines of `Gaata Rahe Mera Dil'.
Ameen Sayani shared his nostalgic memories about the first episode of Binaca Geet Mala which received 9,000 responses while they had expected hardly forty.

Review in Kalki - dt. 16th July 2006

DMS had organized a musical programme "Immortal Stars Immortal Songs". It would have been more apt to title it "Mortal Stars Immortal Songs". Instead of using computerized orchestra or the keyboard to compose such Evergreen Melodies, the maestros of yesteryears such as Shankar JaiKishan, Naushad , S.D. Burman, O.P Nayyar, Salil Choudhary and Kishore Kumar used authentic musical instruments and their fertile imagination with commitment to bring these songs to life. These were reconstructed on stage for the benefit of lovers of music of Chennai by able singers such as Anil Bajpai who brought Mohd. Rafi's voice to life on stage, Vinod Seshadri who gave authentic rendering of Kishore Kumar, Surojit and Nayan Shah whose voices reflected Hemant Kumar and Mukesh respectively and Sangeetha and Anitha in whose voices Lata and Asha sprang to life, along with Evergreen Orchestra who rendered forty five songs.
The programme was embellished by compere Mr. Premchand with jokes and titbits on actors, actresses, movies, music directors, songs and lyricists of yesteryears. The popularity and uniqueness of the programme was demonstrated by the fact that the audience consisted of all age groups and all of them enjoyed the show.
Evergreen songs – ( 17 th June, 2006 )
G. SWAMINATHAN
It was a memorable evening for Hindi film buffs as old hits were sung by young voices.

The intense orchestration reached a crescendo and settled to a denouement. As the curtain rose, the solitary strains of the violin underlined the melancholy notes of Sivaranjani.
"Jaane Kahan Gaye Woh Din," the famous Mukesh number for Raj Kapoor in his magnum opus, "Mera Naam Joker'' created a sense of solemnity. The voice was that of Nayan Shah.
This was at the eighth musical evening of Divine Mother Society's `Gaata Rahe Mera Dil' in Chennai and the theme was `Immortal Stars, Immortal Songs.'
This theme and the selection of songs differed from the earlier programmes. Certainly, a lot of effort and research should have gone into the choice.
Barring a few, all the songs were popular and soaked in melody. Thirty-five songs had been chosen — of yesteryear stars including Raj Kapoor, Kishore Kumar, Nargis, Madhubala, Ashok Kumar, Sunil Dutt, Raj Kumar, Rajendra Kumar, Sanjeev Kumar, Bharat Bushan, Nutan and Usha Kiran.
There was a clever blend of solos and duets, poignant and peppy numbers, fast versus slow ones, classic and light.
The Hasrat Jaipuri-Shankar Jaikishan combine topped the list with fourteen songs and that was understandable. The female singers Sangeetha and Anita shared equal numbers of solos and duets with the four male counterparts.
Lion's share
Among the male singers, Mohammed Rafi's clone Anil Bajpai had a lion's share of a dozen songs. He was closely followed by sultry Vinod Seshadri, the Kishoreda charmer. Nayan Shah impressed with "Dost Dost Na Raha'' (Sangam, Raj Kapoor) specially. Surojit Guha treated the audience to Hemant Kumar hits, in a voice perfect with the quiver in tact. "Yaad Kiya Dil Ne'' (Patita - Usha Kiran) and "Aha Rim Jhim' (Usne Kaha Tha - Sunil Dutt) were both duets with Sangeetha.
Anil's bubbly "Teri Pyaari Pyaari Surat'' (Sasural - Rajendra Kumar), classical "Tu Ganga Ki Mauj Mein'' (Baiju Bawra - Bharat Bushan) and the evergreen "Chaudvin Ka Chaand'' (Chaudvin Ka Chaand - Guru Dutt) had a mesmerising effect. Vinod showed shades of emotions through "Tum Aagaye Noor Aagaya'' (Aandhi - Sanjeev Kumar), "Aa Ri A Jaa'' (Kunwara Baap - Mehmood) and "Beqarare Dil'' (Door Ka Raahi - Ashok Kumar).
Touched a chord
Anita's youthful "Mujhe Kisi Se Pyaar Ho Gaya' (Barsaat - Nargis) and Sangeetha's agonising "Mohabbat Ki Jhooti" (Mughal-e-Azam - Madhubala ) and "Ruk Jaa Raat Teher Ja Re Chanda" (Dil Ek Mandir - Meena Kumari) made their way straight to the listener's heart. One was left wondering, whether it was the songs that catapulted the stars to immortal glory or was it the other way round?
The `Ever Green Orchestra' deserves special mention for its compact but very valuable near-original reproduction. Nitpicking? Sure. Some of the post-intermission songs were rather bland.
The so-called jokes marred an otherwise interesting and informative compering. `Gaata Rahe Mera Dil,' on the whole, has become an event that Hindi film music buffs look forward to.
NEW INDIAN EXPRESS
-17th June 2006

Riding down the 40s lane
It was an evening that everybody present at the Kamraj Arangam wished would never end. An event to pay tribute to old maestros from Mukesh to Mohd Rafi, who captured the heart of music lovers with their voice from the 1940s to 1970s.

The musical programme, Gaata Rahe Mera Dil , organised by Divine Mother Society (DMS) on Saturday was a welcome change from being bombarded with remix versions of the golden era. It started off with the famous song, Jane woh kahan gaye I> from the film Mera Nam Joker (1970).

This was followed by another melodious song sung by Kishore Kumar originally from the film Jhumroo (1961). Though the auditorium was packed, silence prevailed as immortal songs of the yesteryears made people nostalgic.

The whole evening was finally brought back to life with the peppy song Mai chali, mai chali from the movie Professor (1962). Though this mind-blowing song was originally sung by Lata and Rafi, the singers for the night Anil and Sangeetha among others left the audience crying, "once more, once more." Moreover, even the audience joined the singers for many songs like Tu ganga ki mauj mein from Bhaiju Bawra (1952).

Humorous presentation by the compere Prem Chand also added to the fun. A lucky draw was also organised. The first prize was a free two night stay in Sri Lanka which was won by Dilip Kapasi.

But, the ultimate was the intoxicating number of Mohd Rafi, Chhoo lene do nazuk from Kaajal. This song was picturised on a drunk Raj Kumar trying to woo the beautiful Meena Kumari. This song received the maximum applause. Anil's rendition of Yeh mera prem part from the movie Sangam (1964) was also appreciated.

It was the eighth time that DMS was organising such a programme in Chennai.

The proceeds generated from this musical event would go for various social service projects run by the organisation.
"The songs were just magical and it was touching also," says Darshana Devi, employee, CGHS. Only one wished the evening was also immortal just like the theme, "Immortal Stars, Immortal Songs."
When the crowd rose in unison, hands raised above heads, clapping wildly, albeit emotionally, at the end of a perfect Rafi-ique rendering of 'Duniya ke Rakhwaale' by Anil Bajpai, it signified only one of the typical scenes at the packed Kamarajar Arangam on the evening of March 5 th .
It was the tenth charity show of Divine Mother Society [DMS], the fifth in Chennai. The proceeds from the 'Gata Rahe Mera dil' series go to serve the healthcare and education needs of the poor and downtrodden. This show had been put together with singers and orchestra from various parts of the country, including Mumbai, Hyderabad and Bangalore .
True to the theme of 'Shaam Suhaani – Raat Rangeeli', the incredible number of 40 songs that filled the night had been chosen with care. Manek Premchand, the well-informed compere from Mumbai, let the music flow, interjecting with witty comments.
The 1600 strong audience was with the music right from the word go. Sangeetha from Mumbai set the tone in her mellifluous voice, with her flawless rendering of ………… While many in the audience had come to hear Anil Bajpai, the Rafi-voiced, Mumbai-based dapper scene-stealer, they had a pleasant surprise in the vivacious Vijayalakshmi from Hyderabad . She established instant rapport with the audience and reinforced it with every song. Her amazingly versatile voice brought Shamshad Begum (Saiyan dil me aa na re from Bahaar) and Noorjahan (Jawan hai mohabbat from Anmol Ghadi), Lata [Woh chaand kila from Anari ] and Asha Bhosle [ Gajra Mohabbatwala from …………] to the audience who enjoyed every moment, literally dancing to her tunes.
If Anil Bajpai brought memories of Rafi [ Khoya khoya chaand (Kaala Bazaar), Din saara guzaara tere (Junglee), Duniya ke rakh wale (Baiju Baawra), Chaudivin ka chand (Chaudvin ka Chaand) and Jo wada kiya woh (Taj Mahal], Vinod Seshadri did a Kishore Kumar [Yeh shaam mastani (Kati Patang), Tere bina zindagi se koi (Aandhi), Woh shaam kuch ajeeb (Khamoshi) and Jaane ja doondtha (Jawani Diwani)]. The audience lapped up his melody as eagerly as they did the yodeling that was Kishore's hallmark.
Sangeetha, Surojit from Bangalore and Anita from Chennai were all impressive. Nandu from Mumbai led the live orchestra from Hyderabad very effectively, the changeover time between songs being unobtrusively minimal. The surprise package of the evening were Carnatic musician O S Arun with a classic rendering of 'Jab deep jale aana' from C Chitchor, and playback singer Unni Menon, who regaled the audience with the Jesudas favorite ……………. The fact that both singers were spotted amongst the audience and were called to the stage impromptu, made the experience more enjoyable.
All in all, the Chennai crowd had a real treat on March 5 th . Just goes to show that sweet melody, organized effectively, attracts all age groups, never mind if the music was made in the 1950s and 1960s
DMS has already announced its next versions of 'Gata Rahe…' at Mumbai [March 25 th ] and Chennai […………]

Titles Back
CITY EXPRESS – 08.03.2005

Down memory lane
The Divine Mother Society does not stop with just service to the needy .It also organizes musical evenings titled Gaata rahe Mera Dil .Their 10 th charity show (fifth in Chennai) held recently at kamarajar Arangam drew a full audience .This showed that people of all age groups still love to listen to hindi filem songs of yesterdays that are filled with melody and poetry .
This concert , called Shaam Suhani –Raat Rabgeeli featured singers Anil Bajpai ,Vinod Seshadri ,Surgeet Guha and Anita who had participated in the last programme also .The new singers who took stage included Sangeetha from Mumbai , an amazingly versatile Vijayalakshmi from Hydrebad and surprise guest singers OS Arun and Unni Menon from Chennai

Lakshmikant –Pyarelal and Kalyanji –Anandji were just given a go-by .The show had more of Burman da ,Naushad Ali , Shankar Jaikishan ,Hemant Kumar and OP Nayyar .It also had singular songs of Salil Chowdary , Madan Mohan ,Ravi and Jaidev .
Viajaylakshmi stole the show with her vivacity and variety ,She stunned the audience with her endering of the songs of Shamshad Begum (Saiyan dil me aa na re from Bahaar) and Noorjahan(Jawan hai mohabat from Anmol Ghadi). Vijayalakshmi also impressed the audience with lata Mangeshkar's Who chaand kila from Anari ,As usual the demure Anil Bajpai mesmerized the whole hall with Rafi's numbers -Khoya Khoya chaand (Kaala Bazaar), Din sara guzaara tere(Junglee), Duniya ke rakh wale (Baiju Baawra), Chaudivin ka chand (Chaudvin ka chaand) and Jo wada kiya who (Taj Mahal).
Vinod Seshadri also swept the audience to ecstasy with Kishore Kumar's numbers like Yeh shaam mastani (Kati Patang) , Tere bina zindagi se koi (Aandhi) , Who shaam kuch ajeeb (Khamosh) and Jaane ja doondtha (Jawani Diwani) ,his style alternating between flamboyance and melody ,Sangeetha has a very pleasing voice .The numbers she chose included Aao huzoor tumko (Kismat) ,Jab deep jale aana (Chit chor) and Jaane ja (Jawani Diwani). Surjeet emulated Hemant and Talat very effectively with Yaad kiye ne (Patita) and Aaha rim jhim ke ye (Usne kaha tha).
Compere Manik premchand was frugal with his words .However , he remarked on the fact that Madan Mohan and Naushad had missed the Filmfare awards ,despite the contributions made for musicals like ,Woh kaun Thi and Mughal –E-Azam .He said that ,in those days , music was more of a passion than profession to composers and lyricists .So when skill and love came together one could expect masterpieces .
- G .Swaminathan

Titles Back


A tryst with melody and harmony

THE Divine Mother Society, a social welfare organization, in addition to its services to the poor in the fields of healthcare and education, has been doing a fantastic service to Hind film music buffs through its programme, Gaata Rahe Mera Dil. Believe me, after attending the first one year ago, I look forward to it. The reasons are many.
The songs are chosen from the golden era of Hindi film music.This particular event was a complete dedication to the Burmans – Sachin Dev Burman and Rahul Dev Burman. Sachin Dev Burman, Popularly referred to as 'Burman da', has scored music for 92 movies in 29 years.
The next and the most important attraction of Gaata Rahe …. Is extraordinary talent of the young singers it features. Besides the three male singers – demure Anil Bajpai (a la Mohommed Rafi) sultry Vinod Seshadri (flamboyant Kishore Kumar) and mature Surojit Guha (the archival Hemant or Talat) – the girls slipped into the voices of Lata, Asha, Shamshad Begum and Geeta Dutt with consummate ease. Of the 40 numbers chosen, Burman senior got a bigger share than pancham. Prem Kumar did the compering, with the mandatory tit – bits thrown in now and then.
Some cynics may wonder what the big deal is in repeating old songs in a programme like this. There is.
This talented young lot does not just repeat the songs but brings out the soul in the music of the great composers. Undoubtedly, the period from 1950 to 1980 was the golden era of Hindi film music , the songs of which were quite popular in Tamil Nadu also. This is the reason they have weathered the test of time and draw a large audience and thundering applause for every song even today.
Kishore was a favorite of the Burmans, so Vinod had greater opportunities to entice the audience with his powerful voice and impeccable renditions. Whether it was the sober Zindagi he safar mein (Aap ki kasam), peppy Lekar hum deewana dil (yaadon ki Baraat), classy Is mode pe jaate hain (Aandhi) , or the romantic Tum bin jaoon kahan (Pyaar ka Mausam), Vinod kept the audience completely under his spell. Anil Bajpai, being the darling of the Chennai audience, fascinated them with breezy Gun guna rahi hain (Aaradhana), a purely classical Naach man mora (Meri Surat Teri Aankhen) rendered to the accompaniment of tabla beats by Suresh, and the lovable Chura liya hai (Yaadon Ki Baraat) . In the female brigade, Vijayalakshmi of Hyderabad scored over the others, with her amazing versatility brought to light with numbers like Thandi hawaaein ( Naujawan), Lekar hum deewana dil (yadon ki Baraat), Hume tumse pyaar kitna (Kudrat), Raina beeti jaye (Amar Prem) and Saiyan dil me aana re (Bahaar) . Anita and Sangeetha were also impressive in the duets and in solos like Waqt ne kiya (Kagaz ke pool) and Rangila re (Gambler) respectively. Surojit, with his characteristic vocal style,sung a Bhupender number, Naam gum jayega from Kinara, apart from other duets and solos.There was a gaffe in the compreing though: Dev Anand's Teen Deviyan was mentioned as the Tamil Bhama Vijayam . In fact Bhama vijayam was only later remade in Hindi as Teen Bahuraniyan. The orchestration was excellent, and the prominent use of the saxophone, guitar, tabla and other string instruments was brought out with precision.
Gaata Rahe Mera Dil invariably provides a lot of nostalgia, satisfaction and probably a heaviness also to the connoisseur's dil, who has once enjoyed the unadulterated melody.


Maang ke saath tumhara
The times of India, Navi Mumbai, Dated 31 st January, 2004

An earful of nostalgia

Musical show of o p compositions held at vashi

Nazia khan vashi

The invitation to the performance of composer o p navyar's melodies by the golden greats at the vishnudas bhave
Auditorium on January 27 promised 'a nostalgic musical evening'. And so it was delivered. Seated on stage in the baithak style, singers from golden greats, vinod seshadri,kavita murthy deshpande, vrushali patil, s shailaja, anil bajpai and pankajkakkad, vividly brought to life the styles of kishore kukar, geeta dutt, shamshad begum, asha bhosale, mohd rafi, mukesh and mahendra kapoor, as they sang o p nayyar compositions. Thirteen musicians, who replayed of keyboards, drums, guitars, accordion and dholaks, accompanied the singers. As the evening progressed, everyone present learnt more about the musical legacy of nayyar, who started his career in 1952 and went on to become one of hindi cinemas most popular music composer.
As the music took over. Kaushik kothari, the group's planner and presenter, familiarized the audience with nayyar's repertoire. Manohari singh, who had played the saxophone on original composition from the movie Kashmir ki kali, also performed at the show. Singh, who served as chief assistant to the legendary r d burman, displayed his prowess on the instrument when he played an expressive solo from the movie ye raat phir na aayegi (for which nayyar composed).
The musical selection at the show turned so involving that, at several times, the auditorium turned into a dance floor. Audience members boogied to the rendition of classics like kajra mohabbat wala (from the movie kismet), ude jap jap zulfain teri, ye desh hai veer jawanon ka (both from the movie naya daur) and mera naam chin chin choo (from howrah bridge). Ditties like babuji dheere chalo (from aar ya paar), among others, got their share of whistles and 'once more' from listeners for whom the recreationof geeta dutt's voice remained more seductive than visuals of babuji come lately yana gupta's moves,
Vashi resident lalitha ravichandran, who attended the programeme with her mother, says she is a regular at musical showcases of hindi cinema's golden oldies. For many like ravichandran, who find current remixes of old songs distasteful and jarring, such show serve as original cleansingbreaths. For some, like 24-year-old varsha gawde, the event provided an opportunity to form on acquaintance with a different musical era.
There were also those like s b gyara and his family, who traveled for the show in navi Mumbai all the way from grant road, because they, simply, "love music." As the programme came to its crescendo conclusion , it was plain that it was the love of music that continued to keep old symphonies evergreen.
The programme , sponsored by tata motors and unitech and supported by the rotary club of new Bombay, was presented by the divine mother society trust, which attempts to integrate music lovers with the social activities it undertakes all over the country.


When ragas reigned supreme
(the hindu – Friday , November 4, 2005 )
Entertainment a charity show recaptured the melodies of the era of the burmans.
Ranjani govind
Even as the charitable organization, divine mother society (dms), announced its intention of recapturing the golden moments of s. d. burman and r. d. burman in "gaatha rahe mera dil," live at kamaraj arangam, Chennai, this past weekend, through some great voices across the country, one could imagine the stupendous research work associated with it. "but such programmes are in great demand." Asserted a representative of dms, one of the city's voluntary service organisations.
"not just songs, intresting facts related to this ever-pop-ular father-and-son era were by itself a reason to draw a packed hall. Such was their genius, versatility and ingenuity," said the programme anchor, offering something interesting on every number.
If r. d. burman used spoons, glass tumblers and water-filled vessels for rhythm and chose raag peelu for the noughty voice of asha bhonsle in "churaliya hai tumne jo dil ko," in "yaadon ki baarat," he preferred a classical touch by parveen sultana for "hame tumse pyaar kitna" in kudrat.
Panchamda's obsession for raag keeravani saw him give some subtle touches of the scale in "meri bheegi bheegi" in "anamika." R.d., three times filmfare awardee, introduced the electric organ in "teesri manzil" with a shrill western touch that starts the song "tumne mujhe dekha." That incidentally, heralded the association of shammi kapoor with junior burman.
In the family
Music ran in the family after all. Father sachin dev burman's lilting birds and bees in "gun guna rahe hain"in"aradhana" catapulted rajesh khanna to stardom. The composer brought in geeta dutt to sing sahir ludhianvi's ghazal in a seductive style in "takdeer se" in "baazi" with the spanishguitar adding to its romantic appeal.
Majrooh sultanpuri's lyrics sailed across in tranquility, as the stillness of the night in "jewel thief," captured in a boat ride, had the slow-paced "rulake gaya sapna mera" in 1967.
Dada burman was known to be a perfectionist, taskmaster and was keen on repeated rehearsala. This was the man who insisted on samta Prasad from benaras to play the tabla for "nache man mora"in"meri surat teri anakhen," wich drew attention to the importance to new rhythmic explorations.
"see how serious raags wear thought of during the 1970s."said the anchor, quoting"raina beeti jay" in lilatha ("amarprem"), and "is modes jaate hai." In yaman (aandhi). But if there is one song with swar melting into the song just as the lyric would, it is "deewana mastana," to wich the evergreen hero dev anand and suchitra sen sync in perfection as they start "pa ma ga ,"in"bambai ka babu."
Effervescent werw the singers-vinod seshadri, anil bajpai, Krishnan, sangeetha, vijayalakshmi and amazingly true versions of the original voices.
New Bombay plus, Wednesday may 5,2004
Musical night featuring compositions of S D Burman and R D Burman held at vashi
Musical Nite for a cause
The Mumbai chapter if Divine Mother Society(DMS), a charitable organization, staged a night of immortal melodies if the Burmans, by Kaushik Kothan's Golden Greats orchestra, at The Vishnudas Bhave auditorium on April 30, Golden Greats, a musical team known for echoing the grandeur of old and evergreen Hindi film song, presented its 31 st musical show titled Hai Apna Dil To Aawaa, which comprised musical compilations of the trend-setting generations combining the super-duper music abd melodies of Sachin Dev Burman and Rahul Dev Burman.
The programme had a house-full board displayed outside the auditorium with over 1,200 tickets sold out well before the show began, with many die-hard of Burman duo returning home disappointed for not being accommodated, the lucky audiences inside the auditorium thoroughly enjoyed the four-hour non-stop scores from Burmans store.
The super hit numbers, which were originally composed by the Burman father-son duo, mesmerized devoted spectators as pin drop silence was recorded throughout the show that stretched beyond midnight .
Senior citizens, who formed the majority in the spectator gallery, as well as organizes in the jam-packed auditorium, did not hesitate to shake a leg or two to the slow and rhythmic beats of the foot-tapping duets and solos tracking the fifties right through to the eighties.
The centre of attraction was Manhori Singh on the saxophone, who played the unfinished musical composition of R D Burman for his dream film 1942-A Love Story, which remained a dream following his untimely demise.
He show was hosted to raise funds for Kamakshi Baba Medical Centre at Rd Hills in Chennai, which is expanding its activities at the newly operational hospital to cater to the additional needs of the poor villagers there. The popular slogan of the society is 'Service to humanity is service to God'
According to the organizers, DMS, which came into being in 1991 in Mumbai, serves the downtrodden and needy. For instance, the society has been providing food at Shirdi Sai Temple, Mylapore – Chennai, run a free medical centre, lend a helping hand to leprosy patients, computer and organize education and free tuitions for poor students, to mention a few.
S Ramanathan, Divine Mother Society Mumbai Chief, said, "DMS has embarked on holding decent musical shows, comprising Hindi film songs of yesteryears for integration of music lovers with its social service activities. And it's been for charity to ensure the upliftment of of economically backward sections.

Titles Back


REVIEW –
THE NEW SUNDAY EXPRESS CHENNAI OCT, 17 2004
Down Memory Lane
Film music in Indian milieu has changed drastically in recent times, relying on fast beats, synthetic melody and complete dependence on over-powering, computerized version of orchestration, killing the individually of the voice. Technology gas evolved so much that even human voices and their character are manipulated.
So it is pleasing to listen when some youngsters try to bring back the bygone era of the melodious music of 50s and 70s when Hindi film music almost charmed the nation with their perfect blend of passion, melody and some amount of westernized prop or classical.
DMS(Divine Mother Society) presented their fourth programme of Gaata Rahe Mera Dil completely based on old songs, some of the which still linger in the memory of music lovers. Their charity show for the benefit of the various social welfare activities named hits of 50's and 60's , with Friends Orchestra lead by Chandru at the Music Academy Hall recently was a memorable event.
The pragramme started after several hiccups due to a faculty sound system . All singers felt their voices were inaudible in the over emphasized orchestration.But luckily ,after a few numbers ,the vocalists had their day .
Well ,I was more thrilled by the extraordinary way in which the youngsters sang these old melodies than the songperse .If you watched the way Anil Bajpai and Vinod Seshadri performed closely ,you would not have missed the extrasyrupiness and shine these young men added to the voices they have imitated.Anil Bajpai , the shy looking lad who rendered the Mohammed Rafi hits ,got rousing applause for the most of the songs.
His voice moved smoothly and naturally in all registers in Mohabbat zinda rahti from Chengez khan (music Hansraj Behl and lyrics Qamar Jalalabadi), Kuhoo kuhoo bole from Swarna Sundari (music Adi Narayana Rao and lyrics Bharat Vyas) , and Behudi mein sanam from Haseena Maan Jaayegi (music Kalyanji Anandji and lyrics Aktar Romani)drew thunderous ovation.
Vinod Seshadri looks handsome and fits every inch his choice of flamboyant Kishore Kumar numbers. The famous Mere Sapnon ki rani (Aradhana), to the lesser-known Piya piya (Baap re Baap) with Purnima ,Nakhrewali (New Dilli) with chorus and Haal jaisa janab ka (Chalti ka naam gaadi) with Priya was rendered in his soft but strong voice. He could also do the doodling and oodling of Kishoreda with consumamate ease.
Hemant Kumar's slightly quivering voice and Mukesh's nasalized tonal quality were well brought out by Surojit and Anand in their numbers from Tumhe yaad hoga (Satta Bazaar) and Jaane wooh kaise (Pyaasa) to and Mera jootha hai japani (Shree 420), respectively.All female voices sounded sweet and malleable but it was Shruti who could strike a chord like Anil and Vinod in her rendition of Tmhe yaad hoga (Satta Bazaar) ,Mera dil yeh pukaare aaja (Nagin), Tumhi meri mandir (Khandaan) with her special quality and range.
Usha Raj also impressed in the two exceptional numbers – Kuhoo kuhoo and Behudi mein sanam – with her breathtaking singing .Anita and Purnima are the other two girls who shared Asha's , Lata's and Geeta Dutt's voices. Manik Premchand prepared the programme with a variety of interesting tidbits on the songs , composers ,lyricists and artistes .
Despite these favourable points I cannot but think of the total absence of songs of Laxmikant –Pyarelal and very popular hits of Shankar Jaikishan at that period . Burmanda senior was given the maximum representation ,eight out of the 32 numbers presented !Anyway ,while coming out of the hall ,all the listeners of the programme would have profusely thanked the youngsters for taking them on a nostalgic trip to their younger days .
-G Swaminathan



CLASSICS REVISITED
It was yeh dill maange more at the Gaata Rahe Mera Dil charity show
In a recent interview to a TV channel. Legendary compostate of the music industry today, with particular refrence to remixes.
He could not understand why some of the most beautiful golden oldies had to be 'pepped up with rock and pop rhythms and sleazy videos'. He would perhaps have been a happy man if he had been present at the fourth edition of "Gaata Rahe Mera Dil", held at the Music Academy .
The music show ,put up to raise funds for the various projects supported by the Divine Mother Society was a recall of the timeless classics of that golden period of Hindi film music, the 1950 and 1960s .It was when most of the all-time great singers –Mohammad Rafi ,Kishore Kumar ,Mukesh, Manna Dey ,Talat Mehmood ,Hemant Kumar ,the Mangeshkar sisters and Geeta Dutt –were in top form. Not to forget the talent of the Burmans, C Rmachandra ,Naushad ,Shankar –Kaikishan, O.P.Nayya, Madan Mohan ,Sahir Ludhianvi ,Anand Bakshi ,Majrooh Sultanpuri, Shailendra or Rajinder.K.
That evening film music buffs were present in good numbers to tap their feet and sing along with "Pukarta chala hoon main." – Likhe jo khat tujhe," "Tu Gnaga ki mauj ," " Mastibhara hai sama ," "O raat ke musair." " Piya piya piya," "Haal kaisa hai jaanab ka " and " to name but a few for the record.
The regulars of the "Gaata…" show were there in full steength. Presenter Manek Premchand peppered his emceeing with anecdotes (like the one about Sachin Dev Burman, who had just undergone contaract operation,shedding tears when he heard "pooch na kaise ab" did not win a Filmfare award). Rafi –clone Anil Bajpai was the scene-stealer.
And Chandru's Friends' Orchestra provided the track support.The other singers who pitched in were Vinod Seshadri (who's modeled his voice on his idol Kishore Kumar ,his yodeling was pretty good),Anand ,Poornima ,Pirya ,Shruthi ,Surojit and Usha.
It would have ben a more enjoyable evening if only a little more time had been spent on the acoustics and co-ordination of voice and track .
Savitha Gautam .
Review from The New Indian Express dated 11 th November, 2003
Sixties forever
It was like time-travel – watching Dev Anand and Waheeda Rahman first amidst rolling hiss, gently swinging to the melody of Gaata Rahe Mera Dil, on a screen while the adjacent dingers sang the number at a concert organized by the Divine Mother Society. Straight into the techni-color 1960s.
The music academy auditorium was filled with a middle-aged population, who quiety soaked in the old melodies. These were rendered well, the singers adhering to every inflection of the original singers. The loverlorn voice of Mohammad Rafi, the coquettish endearments of Asha Bhosle and the subtle seduction of Hemant Kumar were reproduced, instantly bringing in an aura of old times.
Like the audience, the singers also had a quietude about themselves. Each walked on to the stage humbly, without the least bit of flourish. Probably this lent a magical quality to their singing. This was in stark contrast to their highly-animated and versatile voices that created a bring and cheery world. They were accompanied by Friends' Orchestra.
The mood of the evening was set right at the beginning with Mumbai-based singer Anil Bajpal delivering a perfect rendition of Mohammad Rafi's Khoya khoya chand. Then followed Bhuvana with Asha Bhonsle's Aaya Huzzar Aapka Sitara Mein le Cahlu and Krishnan with Hemant Kuamr's Bekarar karke Hame. Bhuvanan and Anand sang Goasta Rahe Mera Dil. Just 14, Madhumita did a perfect rendition of Lata Mangeshkar's Aapke Nazaro Ne Saamjha Pyar Ki Kaabil Mulhe and received a huge applause.
Another positive point about the evening was the information given about the original singers, composers, lyricists, by the anchors. Although conspicuously awkard with false accents abd ill-placed drama, they managed to convey interesting snippets – Madfan Mohan's only national award, the film Guide being re-made in collaboration with Nobel Laureate Pearl S Buck so that the hero Dev Anand is introduced to the Western audience etc. The concert was a fundraiser and the proceeds will go far the Divine Mother Society's centre at Alamdhi village, Chennai, for free pediatric, eye and dental camps that is being conducted with Apollo Hospitals; cancer screening that is being done in associated with Jeevodaya; computer education, graphics and tuitions in science, maths and English for the economically disadvantaged students.

-Express Features
City Express Chennai, hursday, June 17, 2004
Evergreen heroes, evergreen melodies
Time stood still for four hours as an ecstatic audience got transported into the golden era of hindi film music of the '50s and '60s accompanied on a screen by the stills of debonair Dev Anand and the ebullient Shami Kapoor rendering Chupne Wale Saamne Aa, Dil Ke Jaroke Mein and the like. This was the third programme of old Hindi film hits organized by the Divine Mother Society under the series Gaata Rahe Mera Dil.
The nostalgia became overpowering the singers handpicked for the evening lived every bit to making it look like ab original sound track. Anil bajpal, the demure 'Mohammad Rafi' from Mumbai, was the darling of the crowds as the very mention of his name drew rounds of applause. Vinod Seshadri also from Mumbai abd Surojit Guha from Banglore were exemplary in their rendering of Kishore Kuamr abd Hemant Kuamr numbers. Other male singers were Anand Madhavan and Manek Premchand from Mumbai who rendered Jaaye to Jayen Khan (Taxi Driver) of Talat Mehmood. The show was anchored by Mariek, who has authored the book Yesterdays' Melodies Todays' Memories and is believed to be the authority on songs of the Golden era, Manek was impressive with snippets and insights on the personalities and the films.
Among the ladies there was Usha Raj, M Madhumita, Anitha Santhanam, and Priya Sabu, who rendered various numbers of Lata Mangeshkar and Asha Bhonsle including two solos Rangeela Re (Prem Pujari) by Mdhumita and Ja Re Jare pancho(Maya) by Usha Raj.
Giving touch of grandeur to the captivating rendition of the singers was the near-perfect replication of background music by the Friends' Orchestra. As the last numbers As Jaa aa jaa(Teesri manzil) was announced, the music lovers present had to accept that one more good thing had come to an end.
The proceeds of these shows go to Divine Mother Society's on going charity projects. Among them a Medical Centre for the por under the change of Dr. Geetha Badrinath free capms for villagers, particularly children in association with Apollo Hospitals computer education and tutorials for Standard X examination for poor children in collaboration with the alumni of IIT. Madras (1970 batch).
- Express features Times of India ( 10/05/2003 )
Oldies shake a leg
A musical night featuring music from the sixties was a big hit with Senior citizens
By a correspondent vashi
The divine mother socity, a social service organisation recently presented a night of immortal melodies of the swinging sixtles, by kaushik kothari's golden greats orchestra at visnudas bhave. It was the 12 th musical show of 'Geeta rahein mera dil' a title fame of kausghik kotharl. The programme was organized to raise funds for Kamakshi Baba Medical Centre at Red Hills in Chennai, which is setting up a mint hospital to cater to the immdeidiate needs of the villagers say the organizers. Senior citizens, who were the majority in the audience as well as organizing team in the packed auditorium could not help but shake a leg or two the slow and rhythmic beats of the sixtles. Many hit songs received unanimous encore demands, which apparently stretched the musical night beyond permissible time limits, and extended it till 1:30 am .




THE HINDU
BACK TO DEV DAYS
It left one asking for more at the third "Gaata Rahe Mera Dil" show

They are the main stay of music shows, Wannable singers tune in to them for training. The cupid-struck swear by them. Remixes draw liberally from them. Their lyrics are replace with emotions and they always seem to draw a full house. So much and more can be said about the richness of yesteryear Hindi film music.
This is the third "Gaata Rahe Mera Dil" show in Chennai (held recently at the Music Academy ) and with 60 percent collections there's enough to croon about these lyrical gens", says a beaming S. Suresh, secretary, Divine Mother Society (DMS). The fundraiser was organized by the DMS to support its various social activities such as providing aid to leprosy patient, free medical centre, computer education and free tuitions for poor and deserving students.
This time, the audience was treated to the its of Dev Anand and Shammi Kapoor, whose film, known for the mellifluous music had a clean sweep at the box office. What the maverick kishor kumar was to Dev Anand (the singer behind has a stardom) the legendry Mohammad Rafi was to Shammi Kapoor (who put his initially sagging career on track). "Though smitten by the silver screen, Shamsher Raj kapoor (Shammi was the real name0 was forced to go to school. He faced the camera with "jeevan Jyothi"(1952) and then followed a series of box office setbacks. He arrived as actor only with "Tumsa Nahin Dekha".Such intresting anecdotes narrated by anchor Manek associated with Bollywood for long), was lapped up by the discerning listeners.
With 32 choicest numbers, friends' orchestra's (led by Chandra) repertoire was a mix of scintillating compositions, emotions, music, singers and films of the 1950s. sample these; "yeh raat yeh chandni", " khoya khoya chand", "mana janap ne pukara", "dunlya walon se door", "chupne wale saamne aa", "yaad kiya dil ne", "chod do aanchal", "dil ke jaroke mein", "tasveer teri dil mein", "na tum hame jano" and"tujhe jeeven ki dor se." but timeless melodies such as "diwana hua badal","raat ke humsafar", "o mera sonar a","gaata rahe mera dil" and "abhi na jao chod kar"were rightly followed by "once more" requests from the large number of music lovers , both young and old (a heartening sight) .Next time you hear a music director blaming it on people' changing tastes for churning out meaningless 'masala' music , don't believe him .
In an otherwise enjoyable show , the not-so-effective sound system and some of the singers goin off-key at times (despite their grounding in classical music ) were unpleasant .Anil ,Surajit ,Vinod ,Usha ,Anand ,Madhumita ,Priya and Anita comprised the young team of singers ,but the evening truly belonged to the Rafi alone ,the Mumbai-based Anil Bajpai , with his perfect (emotional and technical) rendering ,one felt like saying "Gaata rahe tera dil".
Chitra Swaminathan.
Rafi Saab and Kishore da come calling
MUSIC Sunheri Yaadein was an evening dedicated to old Hindi melodies and a public cause
Sometimes , it is so easy to be transported back in time.You don't need a time machine ; good ol' music will do .
That's something the 1,000 –odd people who gathered at Ramakrishna Kalyana Mnadapam for Sunheri Yaadein ,a Programme organized by Alapana and conceived by the Chennai –based Divine Mother Society (DMS) ,will vouch for .
All they had to do was close their eyes and experience a wave of retro music .
As Anil Bajpai ,Vinod Seshadri and Sangeeta recreated the lovelorn melodies of Mohammad Rafi ,those of spunky-soulful Kishore Kumar and solos of Lata Mangeshkar ,Asha Bhonsle and Geeta Dutt ,you ,for a moment , felt the original singers were crooning to you .
Sangeeta started off the melodious evening with the hauntingly sensuous Aayiye Meherban from Howrah Bridge .
The next number was an ode to the moon, Khoya Khoya Chaand . Filmi legend has it that lyricist Shailendra went up to the terrace , was moon-struck and came downstairs ,the first verse in mind . Anil Bajpayee ,Rafi's voice , was at his longing besting this number from Kala Bazaar .
Kishore's gem
Roop Tera Mastana from Aradhan , that landmark 1969 film , will rank high among all time favourite sensuous numbers.Vinod ,Kishore Kumar's voice, was at his naughty best as he brought to life the song picturised on a passionate Rajesh Khanna and the coy Sharmila Tagore .
After romance ,it was turn of Love Marriage's Dheera Dheera Chal Chand Gagan Mein .
Anil and Sangeeta ,their voice rich with emotion ,rendered an elaborate raagmalika, Kuhu Kuhu Koyaliya from Swarna Sundari , set to music by Adinarayana Rao .
What added to the charm of the evening was the element of surprise .The singers and the compere ,Prem Kumar ,never let you linger on in one particular mood for long .

Spurned and smitten
After this classical number came the cry of a man spurned in love –Vinod in Kati Patang's Yeh Jo Mohabbat Hai .
Soon followed a string of love numbers sung by those flush in love .Anil and Sangeeta got on to the stage for the coming together of a couple – Bekhudi Mein Sanam – from Hasina Maan Jaayegi .
Pal pal dil ke paas from Black mail, where Dharmendra sings to Rakhi, and Kaun Hai jo sapno mein aaya from Jhuk gaya aasman came next .
Worth an encore
The rocking title song from Dil Tera Deewana had the audience clapping and seeking an encore as Anil and Sangeeta recreated the magic of Shammi Kapoor –Mala Sinha on stage with their chemistry .
It was time for some soft , romantic music with Abhimaan's Tere mere Milan .
Prem Kumar did a wonderful job as compere ,managing to evoke a sense of nostalgia among old timers and reverence among the present generation as he introduced number after number where melody and lyrics shared importance .
Then came the song every woman in the audience died for .The evergreen yeh Chaand sa roshan chera from kashmir ki kali , where Shammi is so smitten by the beauty of a freshfaced Sharmila Tagore.
As Anil cooed looking skyward , " Taarif karron kya usk " everyone beamed .
In the ghoda ghadi segment came the number , Zara hole hole chalo from Saawan ki ghata .
Vinod joined Sangeeta on stage and the duo seamlessly moved on to Oh Priya from Baap re baap .
He followed it with a medley from Jumroo and Andaaz , just to showcase Kishore Kumar's range . If Mein jhum jhum jhumroo was resonant of a younger Kishore ,replete with sounds and shrieks, Zindagi Ek Safar was all mature and the yodelling intact .
The heavy classical number in Raag Kaanada , O duniyaa ke rakhavaale , sun dard bhare mere naale from Bajju bawra rendered by Anil ,had the audience asking for more .
Following a short break for dinner ,people returned to the strains of Anil asking Chupne waale sammne aayen from Tumsa nahin dekha .The immortal Ajeeeb dastaan hai yeh from Dil apna preet paraye was sugary sweet in Sangeeta's honeyed voice .
She moved on to the fast track next with Vinod as they brought alive Paach Rupaiya Baara Aana from Chalti Ka Naam Ghadi .
Anil , the tragedy specialist ,had half the audience thinking of their lost loves as he crooned the soulful Dil ke jharokhe mein from Brahmachari .
The show also featured dialogues from Padosan ,where Sunil Dutt gets tips from Kishore Kumar on how to woo his girl .Vinod danced about on stage as he san Oh meri Bindu re Bindu , modeled on Rabindra Sangeet .
Hum Dono's Abhi na jaao chod kar was well received too .
Audience requests
They took in a few listeners requests too ,notable among them being Jayee aap kahan jaayenge from Mere Sanam , Meri bheegi bheegi si from Anamika and Mera Naam Chin Chin Choo from Howrah bridge .
For the audience ,many of them seated mushaira –style on comfy mattresses ,this was a special way to spend an evening .
The gathering ,which had many North Indians ,sang along with most numbers ,prompting Vinod to comment that he did not expect this kind of a response in Tamil Nadu .
" They were simply great " .
Proceeds from the concert will go to fund social projects of the DMS , including health care and education for the underprivileged in their adopted village – Alamadhi –in Chennai .
" Old songs are our business model " says S. Suresh,Secretary , DMS .
SUBHA J RAO


TIMES OF INDIA
–Supplement 24 th January '05
In Tune
In the aisles
Nostalgia is like a grammar lesson : you find the present tense ,but the past perfect !
Owens Lee Pomeroy
Imagine watching a musical programme where the audience is largely senior citizens –many of them well over their eighties and need to be escorted inot the auditorium ! Also imagine them getting so enthusiastic with the songs presented , that they start dancing in the aisles ! Well , this is precisely what one got to witness in Gaata Rahe Mera Dil – a musical evening of old hindi songs from the golden period of 1950s and 1960s . The show was sponsored and organized by Divine Mother Society (DMS) , a philanthropic organisation that serves the downtrodden and needy .
As Manek Premchand , the moderator of the show ,put it , " The most beautiful songs and compositions were created during this time .After those two decades , the quality of Hindi film deteriorated . The difference in this show as against other similar orchestras , is the fact that the compering is in English and Hindi ; there was a lot of information given about each song such as its raag and some anecdotes of the time of recording it .The singers were people from different walks of like – doctors ,housewives ,et .
As the programme progressed , one could see senior citizens clapping and singing along .There were farmaishes for songs of particular singers ,and spontaneous dancing in the aisles ,with encores by the dozen !
Enjoying the performance were members of National Association of the Blind (NAB) , and other such organizations . There is an underlying trend here which is larger than the mere programme .It shows the disconnect felt by the older generation wth what they are seeing around – music the general attitude and even values . Harking back to a foregone era just epitomizes that feeling , an escapism for three hours , where probably they experience being in tune with times gone by .